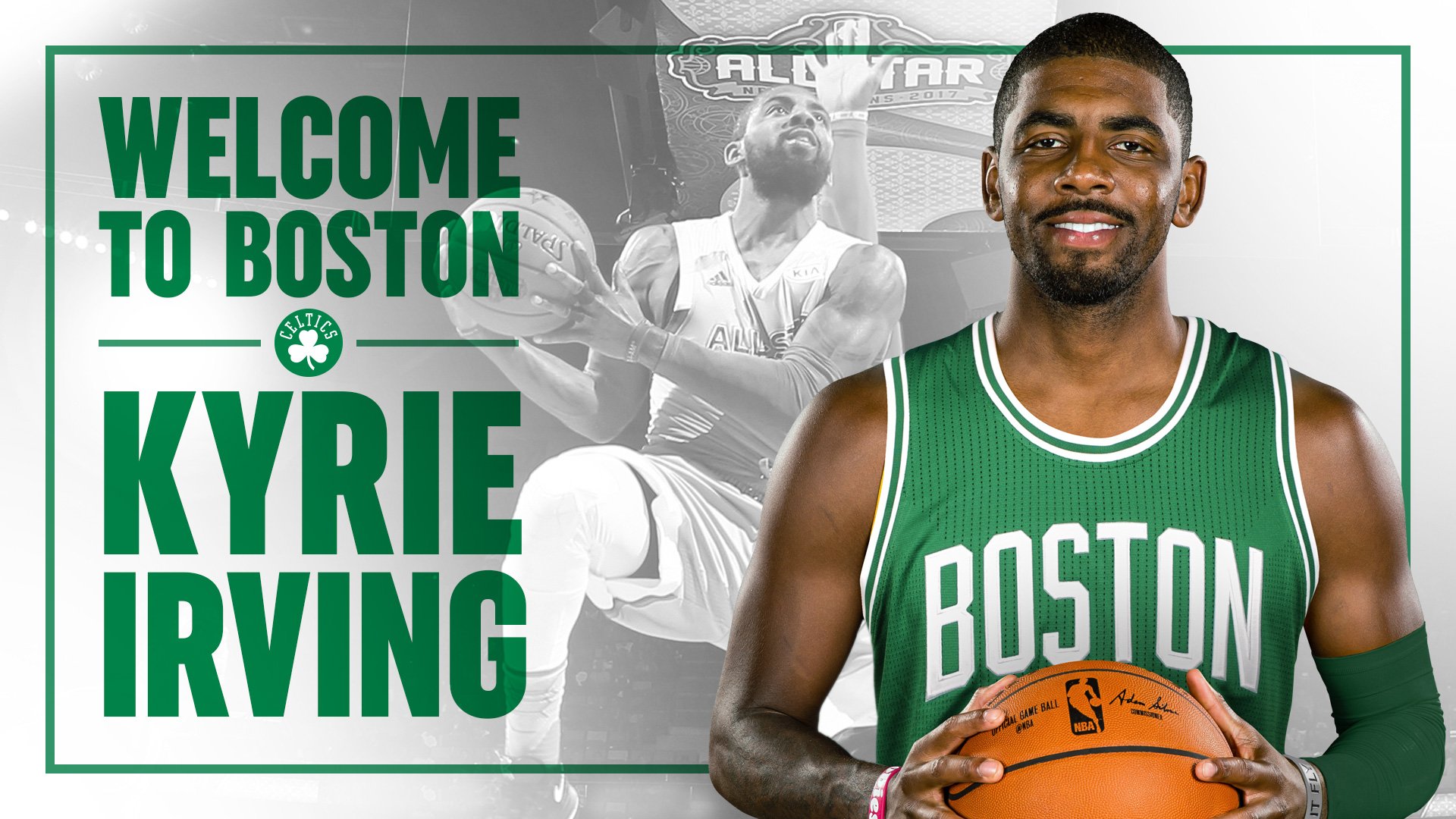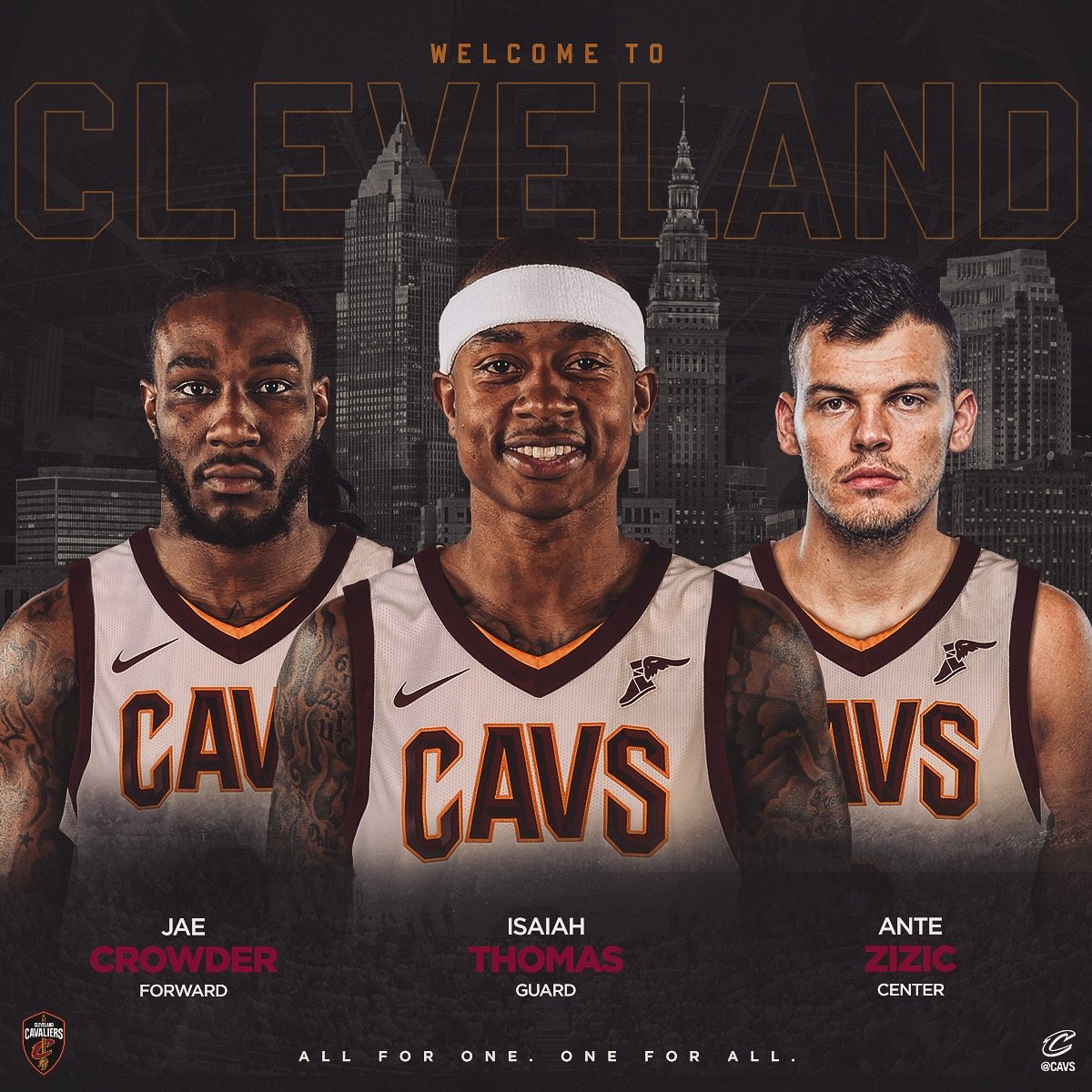 After years of sitting on his assets, Trader Danny finally gave Celtics fans the fireworks that he promised. The Celtics traded a package including Isaiah Thomas, Jae Crowder, Ante Zizic and the 2018 Brooklyn Pick to Cleveland for Kyrie Irving. I have never tried to hide the fact that I am a giant fan of Isaiah Thomas. And I have been told because of this, I am thinking with my heart instead of my head. However, I believe that Danny Ainge made a mistake last night making this trade.
When you look at the numbers, Isaiah and Kyrie are very similar players. Hell, they even have the same strengths and weaknesses. Both are amazing iso players, both are amazing at finishing at the rim, both are proven clutch performers, and both are horrible on the defensive side of the court. I broke down some of the stats earlier this offseason:
– Kyrie Irving: 25.2 ppg 19.7 FGA 47/43% splits 58% True shooting% 7.4 offensive win shares
– Isaiah Thomas: 28.9 ppg 19.4 FGA 46/38% splits 62% True shooting% 10.9 offensive win shares
Like I said, they are very similar players. You could even say, and I do, that as of right now, Isaiah Thomas is a better player that Kyrie. And while I do think that Isaiah is better right now, I understand why Danny Ainge would be interested in trading IT for Kyrie. He is younger. Isaiah is 28 and Kyrie is 25. He is taller, even though they both are defensive liabilities, Kyrie is 6'3″ and can not be shot over. He is just entering his prime and has a higher ceiling than Isaiah. While they are similar now, Kyrie can still grow as a player and eclipse Isaiah. So I understand why Danny would want to do that trade off.
The problem I have is that they gave up more than just Isaiah, a lot more. They gave up Jae Crowder, who while is on the best contract in the league, is also a great player who is a great defender and shot 40% from beyond the arc. I think it is hilarious how many people wanted him out the door. The guy was a huge part of the identity of this team and was one of your better players. Also, they had to add Ante Zizic, who is the only true 7 footer on the team. I understand he is just a rookie, but he is a rookie who if he was in last years loaded draft class, would have been a top 10 pick. And talking about picks, the biggest problem I have with this trade, you had to give up the last Brooklyn pick. They traded the 2018 Brooklyn pick unprotected which iIthink reeaaalllyy tilts the trade on the wrong side for the Celtics.
What I don't understand is why the Celtics had to give the Cavs a fair deal. Kyrie Irving had already demanded a trade. He wanted to leave, this ruined any leverage that the Cavs had. There were no good offers for the Cavs. Everything they were offered were pennies on the dollar. So why would the Celtics then have to blow all the other offers out of the water? Why does Danny have to include that Brooklyn pick? I am not saying Danny didn't try to get the best deal that he could. However, I think he could have waited it out and really drive down the price.
I have no problem coming out and saying that I think this is a bad deal for the Celtics. I have no problem saying that I think Danny Ainge messed up. I think this trade makes the Celtics worst this season. And I don't know about you, but I don't think you should have to give up a Brooklyn pick to get worst this season. I understand why Danny did this trade, he wanted to get younger and raise the ceiling on the C's. Something that stood out to me last night during Danny's press conference is that he said that Kyrie fit their timeline. That a 25 year old is a better fit with the team's timeframe. Danny didn't make this trade to win a title this year. He did it to get a Point Guard who will still be in his prime when Jaylen Brown and Jayson Tatum hit theirs. And while I don't think that is a horrible idea, if that truly is the plan, then don't you think the Brooklyn pick is kinda important?
If I was the Boston Celtics, I would have not done this deal. Not for that price. I think they gave up the heart and soul of their team in Isaiah and I think they gave away one of the most valuable assets in the league in the Brooklyn pick. This trade could flop big for the Celtics if Isaiah wins a championship with LeBron. This trade could flop big for the Celtics if that pick turns out to be #1 and a foundational player. This trade could flop big for the Celtics if they don't extend Kyrie in 2 years. There are so many things that could go wrong on a deal of this magnitude and I think the Celtics made a mistake making it.
Thank you Isaiah for everything you have done for this organization. You took a team that was fresh on a rebuild and turned it into a title contender. You took a franchise that wanted to tank, and forced them into a number 1 seed. You took a fanbase and made them fall in love with your game and your heart. I wish you the best of luck in your career and you will be missed. Thank you.