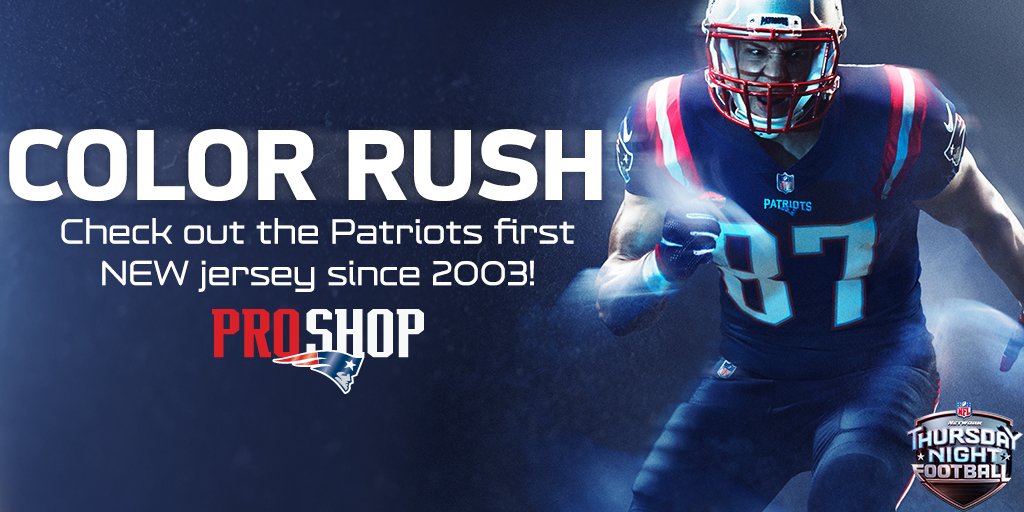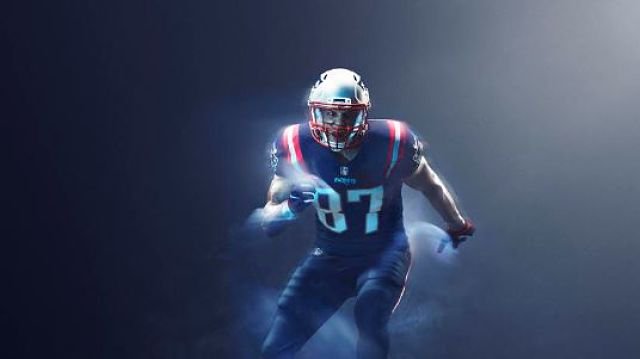 SOURCE–  When New England hits the field for its Thursday Night Football matchup this season, Patriots Nation will bleed blue.
After sitting on the sidelines and watching other teams light it up on Thursday nights, the Patriots finally get their own Color Rush jersey for their matchup against the Houston Texans next week. The NFL unveiled all 32 Nike Color Rush jerseys for the 2016 season on Tuesday morning, and the Patriots will be running the field in a flash of navy blue. The Color Rush uniform makes for the Patriots first new jersey since 2003.
The complete uniform is blue-on-blue jerseys and pants, and the sleeves have stripes of white outlined in red for a pop.
The NFL and Nike teamed up for the Color Rush, releasing a handful of uniforms for the selected games. The vibrant and unique uniforms give fans a chance to kickoff the weekend of football action and bring their spirit into full color. 
Ok I am torn. I do like this jersey. HOWEVER, I wish they made red jerseys. I really wanted the red jerseys back since we haven't worn them in years. It would have cool to get the reds back. But I do really like this jersey. The only thing I don't like is that they didn't add the stripe to the helmet. These jerseys would look a billion times better if they added the red and white stripe to the helmet and kept the Patriots logo on it.
I also wouldn't hate if they made these their new home uniforms, had the red as the alternate, and a white jersey with red and navy blue stripes on it. Pretty fresh. I do like this Color Rush idea because I like when they release new uniforms, however I am not stupid. The ONLY reason the NFL is doing this is to make more money. Because you know every kid in the entire world is going to want there mommies to buy them the new neon green Russell Wilson jersey once they see it on their TV screens.
Also I HATE the NFL rule that teams cant change their helmets. I know it is about concussions and everything but after that performance by Cam Newton last Thursday, it seems like the NFL might wanna worry about on the field concussion protocol instead of how many helmets the team has. That is why the Patriots do not wear their red jersey anymore, because they can't wear the throwback white helmets. But I think I fixed the problem. Tell me these white Patriots helmets aren't the hottest thing out there.