There is no other way to put this game. It was ugly. Brady played hurt, and you could tell. He was not 100% and he was not fooling anyone. He was limping around and still was able to pull the win out of his ass. In my opinion, Brady should have not played. They should have played Jimmy G and let him try to beat the horrible Jets. I get it, it was a close game, but Brady did not look good out there for a majority of it. I don't blame him and actually give him credit for doing what he did with a bum knee, but why risk him getting more hurt?
Talking about risking someone getting more hurt, why the fuck did Gronk play yesterday?! He is hurt. Why are we putting a hurt Rob Gronkowski out there in a regular season game against the Jets??? I have said it once, and I will say it again. Take Gronk and keep him away until playoffs.
He is to valuable to be sending him out hurt into a game that really doesn't matter and that we won without him.
Gronk went down, Bennett went down (but came back) and we had to really look around to who we had to throw too. Who was going to be the guy to step up? That player was Malcolm Mitchell. Mitchell impressed for a 2nd week in a row. His receiving stats didn't jump off the sheet with a respectable 5 rec and 45 yards. However, the stat that did jump out was his 2 touchdowns which both came against who?…. Oh yeah, Darrelle Revis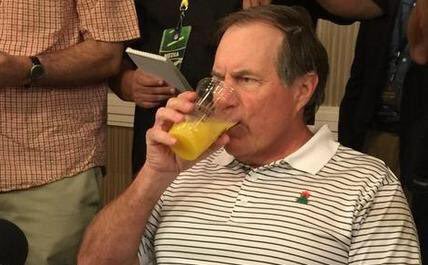 Mitchell is gaining Brady's trust and is looking like a real receiver, something the Patriots have not had success drafting in about ever.
The Offense didn't look as sharp as we have seen it this year, but on the other hand, the Defense looked as dull as it has been all season. Malcolm Butler, one of the only bight spots on that side of the ball got WORKED yesterday. He let up reception after reception and touchdown after touchdown. However, the thing I like about Malcolm the most is that he is a competitor. He has no quit. He gets beat, and recovers to make one of the biggest plays of the game.
Give me 11 Malcolm Butlers on this Defense. That is the kind of heart I want in my players. It is no secret that this Defense has had troubles creating turnovers all season. Not only were we #Blessed enough to get this one Malcolm Butler fumble, but we got TWO(!!!!) turnovers! The 2nd fumble was the play of the game that basically sealed the win for the Pats.
Just a great hustle play that Chris Long deserved to make. The law of averages. This Defense needed a wake up call, and I pray to God that they got it and this is a step in the right direction. If we are going to win another Super Bowl, we are going to need them to step up.