(Link to the whole Press Conference)
SOURCE–   As you might imagine with the Patriots in the Super Bowl, one of the first questions for NFL commissioner Roger Goodell at his annual press conference was about his #DeflateGate investigation.
And much in the same way Patriots quarterback Tom Brady has distanced himself from his relationship with President Donald Trump, Goodell said he was not focusing on the negatives.
"We're moving on from that," Goodell said. "It's part of our history, but we're comfortable with the process."
The awkwardness of the week (which many people are looking forward to) was heightened by the fact that Patriots owner Robert Kraft was sitting in the front row for Goodell's press conference.
And when Goodell was asked later in the press conference about the relationship between himself and Kraft (which Kraft himself said was changed), Goodell insisted nothing was wrong.
"I would tell you it's not awkward at all for me," he said. "We had a job to do. There was a violation, we had a process and discipline."
He also said "If I'm invited back to Foxborough, I'll come," despite the fact he made back-to-back trips to Atlanta during the playoffs.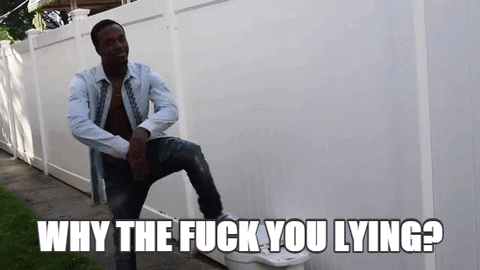 BAHAHAHAHAHAHAAHAHAAHAHA!!!
A joke! A fucking joke!!! Roger Goodell is the biggest pathological liar I have ever seen. All he does is lie. He went up to that podium and lied on every answer. He got his ass chewed out and got fucked sideways by not only the Boston media, but national as well. I wish he held one of these press conferences every week. We all deserve for him to answer real questions and not all those predetermined softballs from the likes of Matt Lauer.
Goodell even got caught in his own lies during his press conference. He said that he would have gone to the Foxboro if he was invited by the Patriots. And then he said later that if he had told the Patriots that he was going to come that he would have been welcome… WELL WHAT IS IT ROGER?! Are you waiting for an invitation or have you just decided you don't wanna show your face?!
Wait actually, we know the answer to that. Jonathan Kraft said in a pregame interview with 98.5 The Sports Hub that NFL teams do not invite the commissioner to games, that HE is the one who will tell the organization if he is showing up.
"They don't call the teams and say, 'Hey…' You know, that's not the way it works," Kraft said. "I think the league office determines where he goes and I don't know the factors that go into that.

"It doesn't … Owners don't extend invitations," he added. "You don't … Opening a stadium or something special (might call for it). I think the league determines based on a variety of factors where the commissioner is going to go. I might be totally wrong on that, too. I don't know because I'm sure somebody will take this through social media and I have no idea. You should probably ask Park Avenue (where the league offices are located) and the guys there about how it gets determined."
Goodell is a liar. A pathological liar who deserves to be fired.
P.S.   Hands down the sneaky best part about this press conference is that guess who was in attendance, sitting front in center in the first row… 👀 👀 👀