That is a fact. The biggest night in Boston Sports since the Super Bowl. The Bruins are on the brink of elimination. The Celtics are at risk of getting swept by an 8 seed. We are in trouble folks,, there is no other way to put it. It is gut check time. Are you going to roll over like a sackless bitch, or are you gunna battle. Are you going to fight. Are you going to show why Boston is the greatest sports town in the entire world.
BRUINS
I am sick and tired of everyone that says this is all just gravy. No fucking way. Sure, we can be happy that we made the playoffs, but I don't care how many players are out hurt. You can not lose 4 games straight. No way. That is almost worst than getting swept, because you know that you should have done better.
The Bruins have been right in every single one of these games. And the biggest surprise of the Playoffs so far is not with the Defense, it is with the Offense. These have been 1 goal games. Even without your top Defensemen, we have been right in these games. Where are our stars? Where are our Offensive playmakers? I am looking at you Marchand, Pasta, Bergy, Krecji. We have gotten nothing out of these guys. You can't win a series with your best players not producing.
CELTICS
This series has been a joke. The Celtics scraped and clawed to become the #1 Seed in the East and then they pull this shit? They laid an egg at home against the 8th seeded Bulls. How, how do you lose both games at home as the 1st seed??? Everyone is under performing in this series and as someone who all season long defended this team, I am embarrassed.
While I say this, I still have not lost hope. I know I am an idiot, but I am a loyal idiot. I just can not actually see this team losing to the Bulls. I woke up this morning thinking without a doubt the C's were going to travel to Chicago and tie this shit up. And then I saw this and it made me even more confident.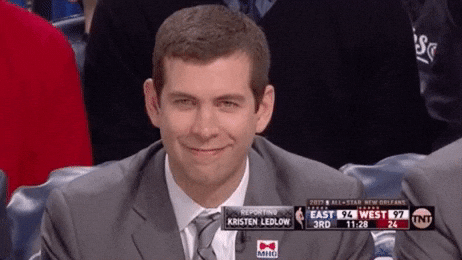 Obviously you never want to see a guy get injured, but you are an idiot if you don't think this helps the Celtics big time. Rondo has been MURDERING the Celtics so far this series. I don't know why, but Rondo decided now was a good time to play like Primetime Rondo again. This guy, who has lost millions of dollars from underperforming the last couple years decides, "Oh we are playing the Celtics in the Playoffs? I am gunna try now."
I can't believe I am saying this, but the Celtics need to figure out a way to stop Robin Lopez. Robin Fucking Lopez. He has been destroying the C's on the glass all series. If Boston is going to get back into this shit, that can't happen anymore. I am looking at you Horford. And it is obvious Amir Johnson can't play anymore. He had 8 minutes last game and that was still to much. I honestly don't know why he still starts. Isaiah has to stop turning over the ball. Jae and Avery need to hit a least a couple of shots. They have been BRUTAL! Al needs to play like he did in Game 1 and get aggressive. I love the guy, but there is so much more he could do Offensively than just setting screens and spacing the floor. Get in the paint.
It honestly sucks that both of these games are at the same time, but it is fitting. Both of these teams are on their last chances. The Bruins are eliminated with the loss, and the Celtics are pretty much dead going down 3-0. This last week has been rough. 5 straight days of playoff loses is unbearable. So I beg you, please please don't lose tonight. I don't think my heart can take it. It is the biggest night in Boston sports since the Super Bowl. It would be fitting if just like in the Super Bowl, there is a big comeback. LET'S GO!!!