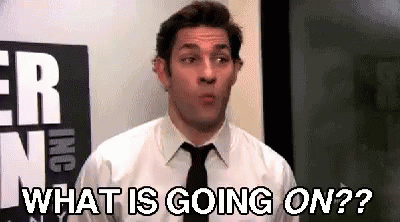 I sit here today asking myself this simple question. What is going on with the Patriots defense? For the 4th week in a row, they have allowed over 300 passing yards and in 3 of the 4, have allowed over 30 points. This Patriots defense is not only the worst defense in the league, but are on pace to be the worst defense in NFL history. If you have not figured this out by now, this is in fact not good. Some might say it is even bad.
After watching wide open player after wide open player catch balls on this Pats defense, I have to sit here ask wonder how does this keep happening? This is the Patriots, who are coached by the greatest defensive coach of all time in Bill Belichick. This is mostly the same defense that was the #1 scoring defense in the league last season. Hell, all of the pre-Super Bowl hype was the #1 offense of the Falcons vs the #1 defense of the Patriots. So the only thing I can think of doing is listing out who is gone from that team last year, and who is new?
GONE:
CB Logan Ryan
DE Chris Long
DE Rob Ninkovich
DE Jabaal Sheard
CB Justin Coleman
NEW:
CB Stephon Gilmore
LB David Harris
CB Johnson Bademosi
DE Cassius Marsh
LB Marquis Flowers
LB Harvey Langi
DE Deatrich Wise
DT Lawrence Guy
DE Kony Ealy  (Cut)
DE Derek Rivers (IR)
The person that I am most disappointed in thus far is Stephon Gilmore. Gilmore was brought in to not only replace Logan Ryan, but be an upgrade. And after giving him a 5 year, $65 Million contract, you better believe that they Patriots expected more as well. The first slip up was in the season opener, when Gilmore was covering Tyreek Hill and expected Devin McCourty to help over the top. Well folk,, there was no safety help, and Hill took that baby to the house.
After this game, I wasn't sure who was in the wrong, Gilmore or McCourty. However, after last weeks game, I think we know who the weak link was.
The Patriots secondary had miscommunication after miscommunication on Sunday against the Panthers. Ben Volin from the Boston Globe created a couple of great graphics to show these breakdowns.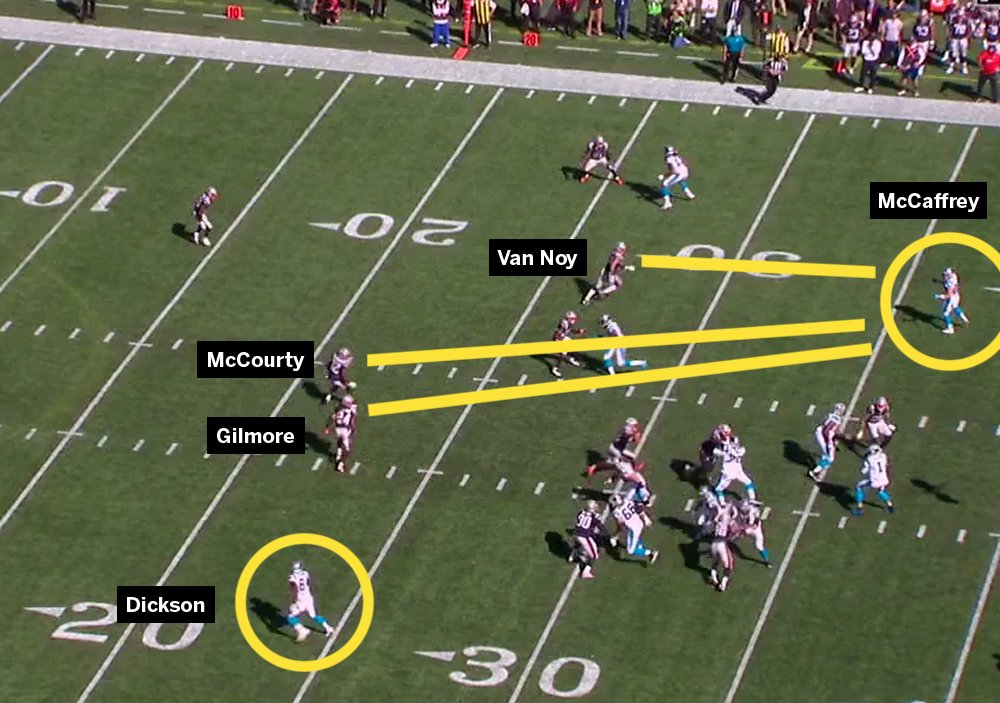 Not sure where exactly Gilmore was going on this play. He was clearly supposed to cover the right side of the field here and left his assignment and left Dickson wide open.
On the Devin Funchess's touchdown, I am not sure how you can leave a 6'5″ wide receiver who is legit running in motion before the snap wide open in the end zone, but Gilmore and Rowe figured out a way to do it. It looks like Gilmore was covering Dickson on the out route and Gilmore was on Funchess, however when Funchess motioned over to the left on the outside, he believed he handed over the responsibility to Gilmore. Well, they both ended up covering Dickson and left open a wide open touchdown. Not exactly how I imagine Matt Patricia drew it up. Also, if you notice on this play, Christian McCaffrey was wide open right in front of Newton uncovered which also would have been an easy walk-in touchdown. Not great!
And then there was NBC Sports Boston's Michael Giardi who flooded Patriots' fans timelines with multiple breakdowns from Gilmore.
Now, I don't mean to pick on Gilmore, and I definitely do not put all the blame on him. However, something here is not working. He is the new guy who in the new kink in the secondary. I don't know if the miscommunication is his fault, however everyone else in the secondary didn't have any problems communicating with one another last season. Whatever the problem is, the Patriots need to figure it out fast. And on a short week, I am not sure if there is much they can do.
One thing that I would not be surprised if they do to try to fix the coverage issues would be to put Gilmore on the same assignment all night. Have Gilmore follow Mike Evans where ever he goes on the field. Don't worry about the coverage scheme and switches, you cover your guy and be the physical man-to-man corner that you were brought in to be. Something needs to be done. We can not expect Tom Brady to bail us out every week. I need this defense to be the defense we thought it could be when everyone predicted the Patriots to go 16-0. And I need it now.