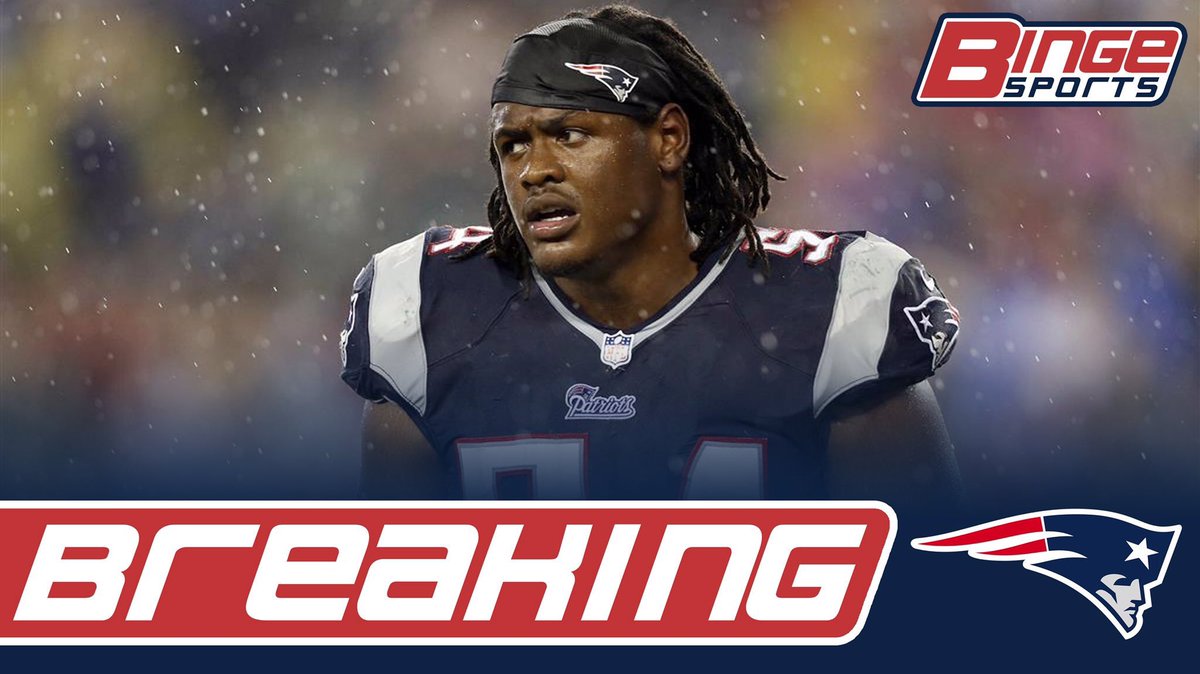 I am not gunna sugar coat it, this is in fact not great. If you were making a list of the Patriots 5 most important players coming into this season, without a doubt you would have Julian Edelman and Dont'a Hightower on that list. Well, after Hightower's injury Sunday against the Falcons, now both are out for the season.
Oh sorry, sorry trying to delete. Here is the real clip.
Just your run of the mill play. Nothing special. One missed tackle and your best defensive player is done for the year. Just when the defense was looking like it was taking a step in the right direction. Right when it looked like the unit was turning the corner and held the Atlanta Falcons to only 7 garbage time points.
I know the phrase next man up gets thrown around a lot with this team, but Hightower is not a guy you can just replace and everything will be ho hum. The Patriots just lost not only one of their best defensive playmakers, but the leader in that defense. Hightower is the Quarterback of that unit. He wears the green dot. He is the one making all the defensive calls. And he is also the heart and soul of the defense. When the Patriots were down in the Super Bowl, it was Hightower on the sidelines being vocal. When the Patriots needed a big play, it was Hightower who stepped up.
There is no Dont'a replacement. There is no one guy on this roster who can give you what Dont'a gave you. The only thing you can do is throw enough guys in to try to fill in the gap. David Harris is the guy I am looking at to be paired next to Kyle Van Noy to start off. Van Noy is now going to be the guy that the Patriots depend on and I think Harris will be a good complement to him. Harris has a body similar to what Hightower was giving you. Harris can't cover anymore but Hightower isn't the best cover Linebacker either. In last weeks game, David Harris played the most snaps he has every played in a Patriots uniform. And from what I saw, I think he can be a good replacement.
And why Harris I believe is going to get the first crack at this, I think guys like Elandon Roberts and  Shea McClellin, who should be back soon, will be able to help out as well. Roberts has a similar skill set to David Harris in the way they are both good run stoppers but have trouble in coverage.  Shea McClellin is more versatile in that he was used in coverage much more than the other two.
Also I would be surprised if the Patriots did not look at players not currently on the roster to help fill in the void. If you are completely silent, in the distance you can make out the sound of Rob Ninkovich's phone ringing. I 100% think that Bill is going to reach out to Nink and see if he is still interested in playing football. Yes, he is retired. Yes, he isn't the same player that he used to be. But guess what he still is, a leader. He is a guy who can walk in and know the playbook and offer knowledge and a veteran presence that no other free agent could bring.
Speaking of former Patriots, I have heard the name Jonathan Casillas being thrown around a lot. After being traded to the Patriots at the deadline in 2014, he was mostly a special teams player for the eventual Super Bowl champions. He then signed a nice contract with the Giants who are currently a dumpster fire, he obviously has had a better career in New York than his short stink with the Patriots, so that would be a nice fit.
Another Linebacker who was traded to the Patriots during the 2014 season is also currently available and looks like heard the Hightower news.
I was a huuuuugggeee Akeem Ayers fan during his time in Foxborough. He was a player next to Hightower and Jamie Collins and I wanted the Patriots to bring him back when he was released. Maybe I will finally get my wish.
While the injury to Hightower completely sucks, the timing definately could have been worst. With the trade deadline October 31st and the Patriots on a bye next week, it seems like this would be an ideal time to trade for someone and work them in. I already talked about Casillas as a possible trade target, however there are more interesting names that might be available. One name that I saw that would be a possible trade for New England was Chiefs Linebacker Tamba Hali.
SOURCE– New England Patriots head coach Bill Belichick excels at finding specific roles for players within his schemes, particularly on defense.

He often finds aging veterans who can be used in part-time roles to maximize what remains of their skill sets.

Kansas City Chiefs linebacker Tamba Hali has yet to be taken off the physically unable to perform list, but he was eligible last week.

"Yeah, we haven't activated him yet," head coach Andy Reid said Friday, per Arrowhead Pride's Pete Sweeney, "so we'll determine when we do that."

Hali wondered on Twitter this summer if the Chiefs even needed him. If they don't, the Patriots could benefit from more of an edge presence.
Other names that the Patriots could look at are Hau'oli Kikaha (Saints), Mychal Kendricks (Eagles),  Jon Bostic (Colts). I am sure because I brought up these players, that none of them will be traded to the Patriots now. Belichick will either trade for a special teams player that neither you nor I have ever heard of or he will trade for a former 1st rounder who no one thought would have been available. We both know the rules.
And while we could spend all day speculating who the Patriots might bring in, what has been driving me crazy all day is thinking of the guys that could have been on the roster. When the 49ers released the 3-time Pro Bowl Linebacker NaVorro Bowman, I instantly thought that he would have interest from the Patriots. However, they never even brought him in for a workout. The guy was available for nothing and the Patriots decided to stay put. It boggles my mind that they didn't even bring him in to at least kick the tires. But no, he ended up signing with the Raiders, who the Patriots are playing in 3 weeks. Oh also, not only did sign with the Raiders, but he also started for them just days after WITH the green dot. They believed he was good enough not only play, but start and be the Quarterback of the defense.
Another thing that has been in my head all day because I am a cynical human being is how they decided almost exactly a year ago to trade Jamie Collins to the Browns for a compensational 3rd round pick. As you might know, I was not, and still am not a fan of the trade. The Patriot decided to pay and build their defense around Dont'a Hightower instead of Jamie Collins. This is knowing the medical history of Hightower. Who while being the top free agent last summer, was passed over by the Jets and Steelers who when they brought him in, looked at his physical and was turned off. I am not saying I didn't want Hightower back because I did, but if I were the Patriots, I would have figured a way to keep Collins here ESPECIALLY with Hightower's medical history.
This is without a doubt a step back for a Patriots' defense that has been shaky all season long. And while they seemed to have taken a step forward the last couple weeks, unfortunately this is one step forward, two steps back.
I miss Qualin already.