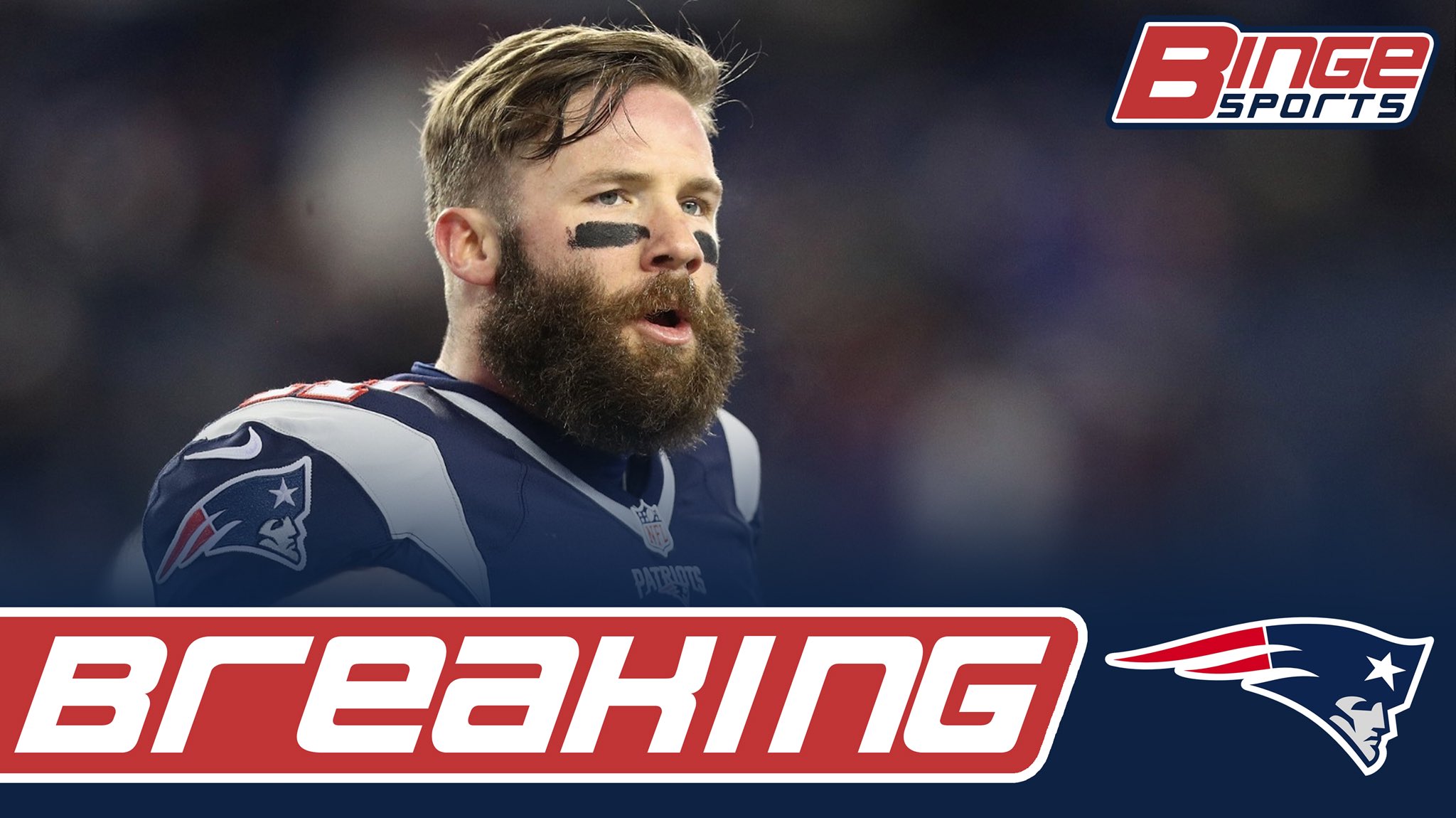 SOURCE–    New England Patriots wide receiver Julian Edelman is facing a four-game suspension for violating the NFL's policy on performance-enhancing substances, league sources told ESPN on Thursday.

The suspension is currently under appeal as Edelman has taken "hundreds of tests" and has not tested positive before, a source told ESPN.

If he were suspended for four games, Edelman would forfeit $470,588.20 in base salary. The Patriots' first four games are against Houston, at Jacksonville, at Detroit and home against Miami.

Edelman, who has been a regular participant in the team's offseason program, OTAs and minicamp, is returning from an ACL tear during the 2017 preseason that forced him to miss the entire season. He turned 32 years old last month and is entering his 10th season in the NFL.

Wide receiver isn't a position at which the Patriots are loaded with experienced, quality depth. After losing Danny Amendola and Brandin Cooks this offseason, the Patriots' receiving corps consists of Jordan Matthews, Cordarrelle Patterson, Chris Hogan, Malcolm Mitchell, Kenny Britt, Phillip Dorsett and sixth-round draft pick Braxton Berrios.
I am not gunna sugar coat it, this is not great. After missing him dearly on the field all last season, Julian Edelman looks like he will miss the first quarter of the 2018 season. However, this year we will not have Juls bestfriend Danny Amendola to step into his role.
Am I surprised Edelman was using PEDs? Hell no. He is 32 coming off an ACL injury. I am not surprised he might have used something to help him recover. Honestly, I am fine with guys doing stuff to come back from injuries. The way football of all sports are so cut throat and the amount of roster turnover in this league, I have no problem with someone doing something to get them back on the field.
Obviously, the big connection here is that Edelman is a Alex Guerrero guy. Everyone and their mothers tried to connect Edelman's PED suspention to Tom Brady's trainer and the TB12 Method. However, Alex came out and issued a statement about the matter.
"I've known Julian since his rookie year and he is a phenomenal athlete who takes his training seriously — it's disappointing to hear today's news," Guerrero said in the statement issued Thursday night. "Elite athletes sometimes work with multiple coaches and health professionals as part of their off-season training."

"Here at our facility, we take a natural, holistic, appropriate and, above all, legal approach to training and recovery for all of our clients," he continued. "And anyone who would suggest otherwise is irresponsible, and just plain wrong."
It is obvious that Tom Brady and the Patriots offense are going to miss Edelman, however, I think there are some options on the roster that can help fill in for him.
The first person I look to is Jordan Matthews. He is a guy who I was super excited when he signed with the Patriots because we have seen him do it before. He was a beast in the slot during his time with the Eagles. He is a big body reciever who makes his money in the slot.
I thought he would have succuess in this offense before the Edelman news. Now, with Edelman out, I think he could be a huge playmaker for the Patriots.
The next two guys who I believe are both going to be fighting it out for a spot on the roster is 2nd year player Riley McCarron out of Iowa and rookie 7th round pick Braxton Berrios out of Miami. Both guys are short slot guys in the mold of a Wes Welker and Edelman. Speaking of Welker, during last years training camp with the Texans, Bill O'Brien compaired the former Patriots Wideout to McCarron.
Both Riley and Braxton will have the chance to show what they got with Edleman out and Amendola's snaps being there for the taking.
Does not having Edelman for the first 4 games of the year suck? Of course it does, expecially when you look that the Defenses the Patriots are going to be playing against. But will his appcense affect the Patriots record and chance to win the Super Bowl? Hell no. This team made it to the big dance last year without Edelman playing a single game. Josh McDainels with have his work cut out for him, but the Patriots will roll without Julian just like the did last year.